Aleem Bawany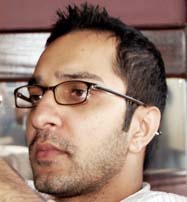 In a mouthful, I am curious, excitable, pacifistic, liberal, optimistic, unafraid, objective, pragmatic and a technophile.
I was born and raised in Karachi, a city with beautiful beaches, bad traffic, late nights, greasy food, rampant piracy, corrupt bureaucrats, full service, and easy living.
All this, I traded for the cold, blistering winters (though equally pleasant summers) of Toronto. Somehow between the wild times on campus, I managed to graduate with a B.Sc., honours, specializing in Software Engineering from University of Toronto. I freelanced throughout my university and right after, went to work for a doomed startup where I learnt many invaluable lessons. But I found Toronto winters to be paralyzing.
West coast seemed a lot more inviting and I changed up the pace by joining Microsoft in Redmond (Seattle) where I opened up to a world of technophiles and enthusiasts who loved the outdoors. Microsoft has a lot of re-orgs where teams get shuffled around. That was fun because I got to interact with a lot of interesting people from business school graduates to Indian contractors and everything in between. Our team found a worthy purpose and assembled ourselves as the Global Business Intelligence group where we worked on customer and business intelligence problems and behavioural analysis. I got to learn more than I ever have about business and strategies from the brightest minds in the industry. I miss it terribly.
After a tremendous 4 years at Microsoft (and frequent interludes to Vegas) I decided to relocate back to Karachi. In March of 2008, I got married to my now lovely wife who also relocated from London.
While trying to feel my way around the local market, I explored and consulted within the finance sector, worked on some really cool iPhone applications, consulted with the leading media companies and worked on startups.
Pakistan has a lot of voids in the software sector and a lot of catching up to do, which also brings with it ample opportunities. I found my perfect void. Currently I am serving as General Manager at Express News, undertaking the largest portal project in Pakistan.
If you're a technology enthusiast you may find my blog interesting. I can be contacted through aleemb (at) gmail (dot) com.